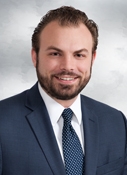 Phone: 732-741-3900
Fax: 732-224-6599
tdehaut@ghclaw.com
vCard:

Practice Areas
Practice Focus
Real Estate, Redevelopment & Planned Real Estate Development
Land Use & Development
Construction Law & Litigation
Alternative Dispute Resolution
Education
University of Pittsburgh School of Law
J.D., 2009
cum laude
Trinity College Dublin
LL.M., 2008
first class honors
Boston College
B.A., 2006

Bar Admission
New Jersey
Pennsylvania
New York

View as PDF
* PDF is Best Viewed with
the Latest Version of Acrobat



Timothy J. DeHaut
Shareholder
Timothy DeHaut maintains a broad-based transactional and commercial litigation practice, with particular focus on construction, real estate, and sustainability. Representing real estate developers, lenders, designers, contractors and subcontractors, he assists clients throughout all stages of development – from acquisition, design and financing to construction, occupancy and sale.
Mr. DeHaut's transactional practice includes the drafting of construction and design contracts, purchase and sale agreements, loan documents, and related development agreements. He also has experience in community association law, including condominium and homeowners' association related matters. As a LEED Accredited Professional, accredited by the United States Green Building Council, Mr. DeHaut provides advice on sustainable development; energy efficiency; co-generation; solar facilities; and related incentives.
In addition to transactional work, Mr. DeHaut represents clients in litigation, arbitration and mediation throughout New York and New Jersey. He advocates for clients in a wide variety of complex commercial disputes, including construction, commercial contract, loan, land use, consumer fraud, lien and other disputes. Mr. DeHaut specializes is troubled projects with the goal of helping clients achieve their objectives in the most efficient, practical and cost-effective manner. He has assisted in the resolution of cases ranging from a few thousand dollars to hundreds of millions and has significant experience in troubleshooting issues with a hands-on, result-oriented approach.
Prior to joining the firm, Mr. DeHaut worked with an international dispute resolution firm assisting parties resolve disputes throughout North America and Europe in a wide variety of projects, including vertical building, heavy highway and utility construction, among others.
Articles/Publications
"Recent Developments in Flak Jacket Protection Issues," The Litigation Landscape Blog, September 27, 2017
"New Jersey Supreme Court Clarifies Statute of Limitations in Construction Defect Cases," The LItigation Landscape Blog, September 27, 2017

"ADR in the US and Ireland," Boston College Business Law Summer Abroad Program, Dublin, Ireland, June 2010 & June 2011
"The advantages and disadvantages of using conciliation and 'mediation-recommendation' procedures to resolve construction disputes," Construction Legal Edge, Winter Edition 2011
"The Art & Science of Dispute Resolution: Game Theory, Mediation, & Dispute Strategy" The Second Annual Windsor Law Student Conference, Windsor, Canada, February 2009
"Game Theory and Mediations" Mediator's Institute of Ireland, 10th Annual Conference, Sligo, Ireland, November 2008

"Game Theory and Dispute Strategy," CLE Seminar, University of Pittsburgh School of Law Pittsburgh, PA, October 2008

Professional Activities
Board of Directors, US Green Building Council, NJ
Honors/Awards
Selected by Super Lawyers as a New Jersey Rising Star, 2018
Seminars/Presentations
"Troubled Projects from Start to Finish," New Jersey Institute of Technology, October 17, 2018
Speaker, "Energy Code Mandatory Requirements, Enforcement and Liability," Atlantic Builders Convention, April 12, 2018
"Problem Projects Construction Management - A Case Study," New Jersey Institute of Technology, Department of Civil Engineering, February 2018
"Green Building Checklists, Legal Framework and Implications," Encouraging Developers to Consider Green Design, Sustainable Jersey, October 14, 2015
"Appraisal Considerations for Sustainable Buildings," Appraisal Institute, Educational & Networking Event, October 1, 2015
"Alternatives to Litigation," Kipcon Engineering Webinar, February 2015