Matthew N. Fiorovanti Successfully Argues Case Before the Appellate Division
November 28, 2017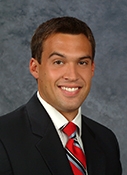 November 28, 2017 - Matthew N. Fiorovanti, Shareholder in the Litigation practice area, successfully argued a case before the Appellate Division in which Giordano, Halleran & Ciesla represented the Estate of the decedent and his 2 surviving daughters against a palimony claim filed by the decedent's girlfriend.

The plaintiff had filed a palimony complaint in 2011, but that case was dismissed on the grounds that the amendment to the statute of frauds required palimony agreements be in writing, and no such written agreement existed between the parties.

Years later, the New Jersey Supreme Court ruled that the amendment to the statute of frauds applied prospectively, and could not apply to invalidate otherwise lawful oral palimony agreements that were entered into prior to the enactment of the amendment. Based on this decision, the plaintiff filed a second palimony complaint against the Estate. The court dismissed the case, agreeing with the Estate that the plaintiff was precluded from filing a second lawsuit, years after her first palimony claim was dismissed, simply because of a change in the law regarding the retroactive effect of the amendment to the statute of frauds. The Appellate Division affirmed the dismissal of the case, agreeing with the trial court's analysis. While the Appellate Division recognized that there were equities to both sides, principles of finality and fairness weighed in favor of dismissing the case.

GH&C invites and welcomes further discussion on cases and matters involving claim for palimony relief.

Giordano, Halleran & Ciesla, P.C. is a multi-specialty law firm dedicated to providing sophisticated, complex legal services and solutions. The attorneys maintain personal relationships and gather in-depth knowledge of clients' businesses and industries to construct both sound legal advice and effective strategies to resolve business issues. With a focus on responsiveness and producing results with outstanding value to their clients' bottom line, the firm provides experienced legal representation in a wide variety of practice areas, including: Corporate and Business; Creditors' Rights and Bankruptcy; Environmental; Healthcare; Intellectual Property and Technology; Labor and Employment; Litigation; Mergers and Acquisitions; Real Estate, Land Use and Development; Securities; and Trusts and Estates. For more information, visit us at www.ghclaw.com.
Posted in: Litigation